Leonardo's Spiritual Stature at the Turning Point of Modern Times
Schmidt Number: S-2694
On-line since: 15th July, 2019
Translated by Peter Stebbing
Bn 62.8; GA 62; CW 62

We can say that he [Leonardo] bore within him the whole spirit of his age, and yet he was often misunderstood or out of sync with his time, precisely because he was already working out of the depths of the spirit, making use of powers that were only to emerge in later centuries. -- Rudolf Steiner, GA 292.

From the translator, Peter Stebbing: "No adequate translation has existed until now of Rudolf Steiner's lecture on Leonardo ... perhaps my translation will be of interest to the readers of the Rudolf Steiner Archive & e.Lib."

This single lecture is the 8th of 14 lectures in the lecture series entitled, Results of Spiritual Investigation, published in German as, Ergebnisse der Geistesforschung.

This lecture is presented here with the kind permission of Peter Stebbing and the Rudolf Steiner Nachlassverwaltung, Dornach, Switzerland. From Bn 62.8; GA 62; CW 62.
This e.Text edition is provided through the wonderful work of:
Various e.Text Transcribers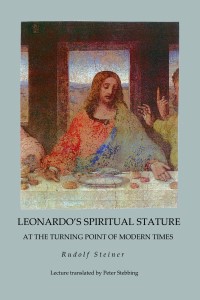 Some editions and/or translations of this book are available for purchase from:
search for related titles available for purchase at Amazon.com!